World
Gaddafi's lawyer: My client has become a candidate and it is not permissible to appeal against him
Khaled Al-Zaydi, head of Saif Al-Islam Gaddafi 's legal team , announced on Sunday that his client has become one of the final presidential candidates in Libya, stressing that "no appeal may be submitted against his candidacy."
Al-Zaydi said: "We attended Sunday's session regarding the appeal filed by the Electoral Commission, and we put forward several arguments, and the appeal was rejected in form," noting that "the appellant in the name of the Commission did not submit sufficient papers indicating his legal capacity and the validity of his representation to the Commission and that he is authorized to this appeal, which is what we pushed him to do." And the court accepted it," according to local media.
now and then
He also added that "the initial ruling turned on Sunday from the Sebha court by rejecting the appeal against candidate Saif al-Islam to a final and final ruling," stressing that "the ruling obliges the Election Commission to include Saif al-Islam among the final list of candidates immediately, as it is a ruling that must be executed."
Al-Zaydi also indicated that Saif al-Islam Gaddafi will deliver a speech in which he announces his program and his vision for the Libyan people, but he said that determining the date of the speech and how to appear in it belongs to Gaddafi personally, adding that "after Sunday's final and final ruling, we can announce the start of the electoral campaign officially, and we are waiting for the election campaign to open. ".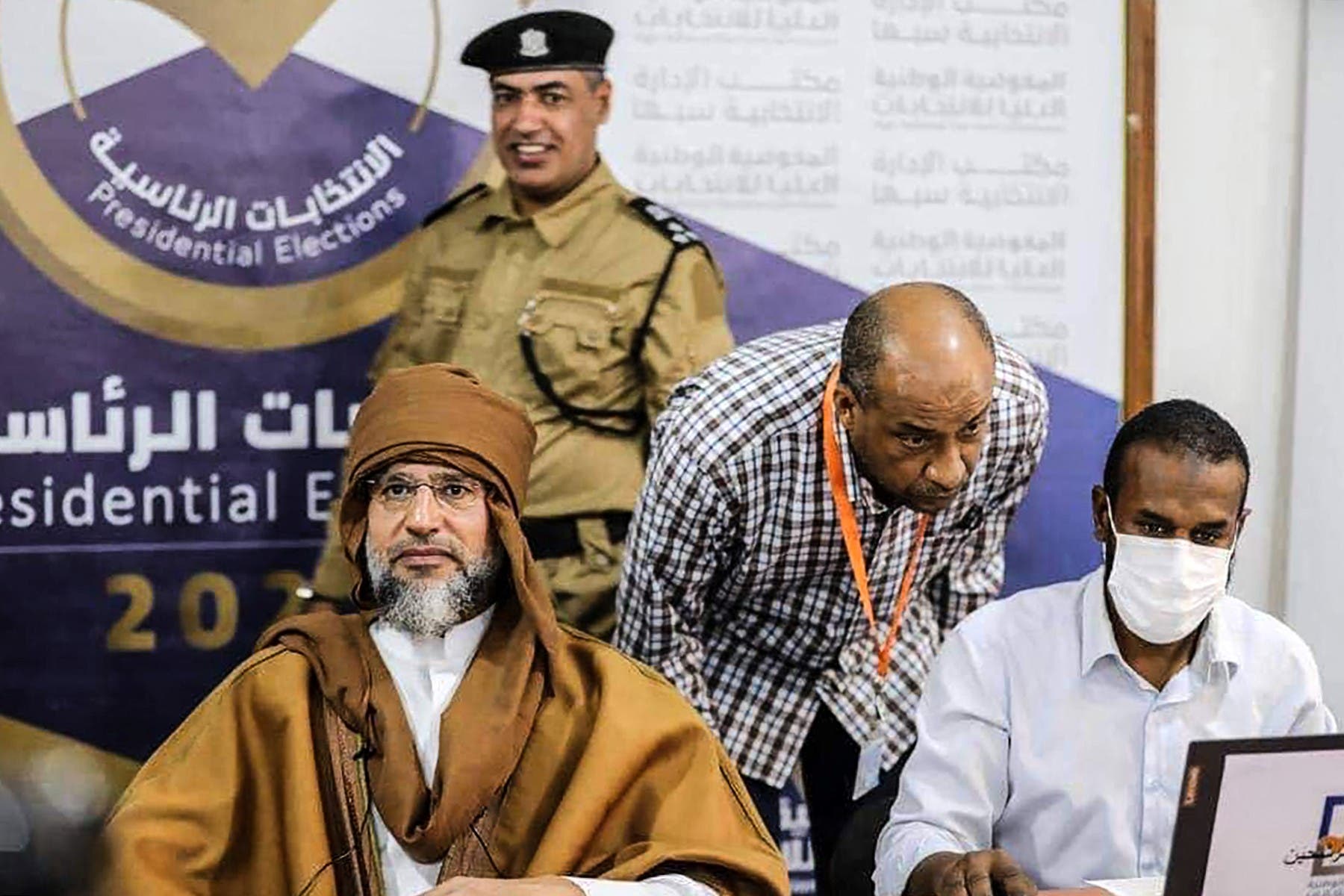 Saif al-Islam Gaddafi (file photo from AFP)
Ruling in favor of Saif al-Islam
It is noteworthy that the Sebha Appeals Court had issued a ruling in favor of Saif Al-Islam Gaddafi in the appeal submitted against him by the Electoral Commission, obligating it to return him to the final list of candidates.
For his part, a member of Saif Al-Islam Gaddafi's political team, Muhammad Al-Qaloushi, confirmed to Al-Arabiya.net/Al-Hadath.net that the Court of Appeal in Sebha ruled obligating the High Elections Commission to include candidate Saif Al-Islam Gaddafi in the final list of candidates, after rejecting her appeal submitted to it in a form. .
25 candidates disqualified
The Electoral Commission had decided to appeal against the decision issued by the Sebha Court to return Saif al-Islam to the presidential race, but the Appeals Chamber ruled in Sunday's session in his favour, which is a final and final ruling that the Commission is committed to implementing.
It is noteworthy that the commission had excluded 25 candidates from the initial list of candidates for not meeting the conditions for candidacy, but the judiciary returned a number of them to the race after ruling in favor of the appeals they had submitted against the commission's decision, including Saif al-Islam Gaddafi, the head of the General Conference, Nuri Abu Sahmin, and the economic expert Khaled Ghwell and the leader in the previous regime, Ahmed Sharif