World
Tunisia : Student stabs his teacher with a Machete
A video clip that quickly spread on social media, which depicted a shocking scene of the effects of a student's assault with a knife and a cleaver on his teacher in the classroom, aroused great discontent in Tunisia over the level of education reached after the spread of the phenomenon of students' violence against their teachers, without taking deterrent measures to curb these behaviors.
In the details, a student in the first year of secondary education, on Monday evening, deliberately stabbed a professor of history and geography with a knife and hit him with a machete in one of the secondary institutes in the Zahra area in the southern suburbs of Tunis, causing him severe injuries to the face, head and shoulder. She referred him directly to the hospital operating room, where he underwent a delicate surgery.
A videotape filmed inside the department and in the institute's yard shows traces of blood that bled profusely from the professor, during his treatment by his colleagues, and pictures of the assault tools represented by a knife and a cleave
wide resentment
In turn, the Ministry of Education issued a statement condemning this incident, which caused widespread resentment within educational circles, expressing its absolute solidarity with the abused professor, adding that it is working with all legal means to ensure his material and moral rights, and is working to follow up on his health condition accurately. The 16-year-old was arrested.
On the other hand, the General Syndicate of Secondary Education in Tunisia called, in a statement, on all female teachers and their union structures to engage in an attendance protest strike in all educational institutions on Tuesday, pending the necessary escalatory struggle decisions to be taken later.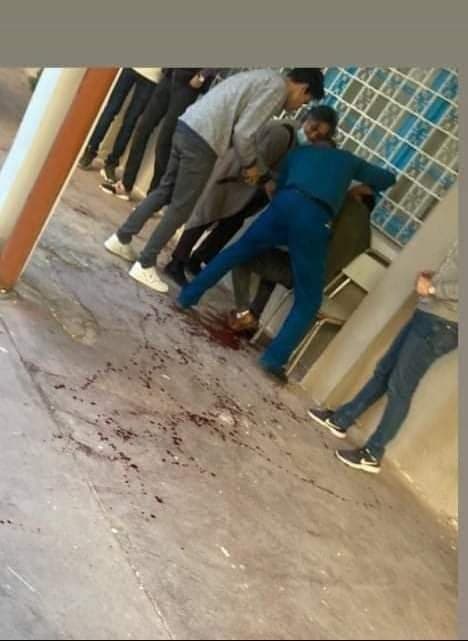 The Syndicate held the Ministry of Education responsible for what is happening, due to its inaction and indifference to what happens on an almost daily basis in terms of material and moral attacks on educational institutions and the educational framework working in them, calling on all responsible authorities to intervene urgently and effectively and take the necessary measures to stop this bleeding and put an effective end for him.