World
In coordination with Israel, Egypt is strengthening its military presence in Rafah
The Egyptian military spokesman announced today, Monday, that Egypt will increase the number and capabilities of the border guards in Rafah, after coordination with the Israeli side.
Israel had announced that it had signed with Egypt an amendment to the Camp David peace agreement signed in 1978, strengthening the presence of the Egyptian army in the Rafah area in the Sinai Peninsula.
Egyptian-Israeli bilateral meeting
For his part, Avichai Adraee, a spokesman for the Israeli army, said in a statement that a meeting was held on Sunday for the joint military committee of the Israeli army and the Egyptian army, where bilateral issues between the two armies were discussed.
He added that the Chief of the Operations Authority in the Joint Chiefs of Staff, Major General Oded Basyuk, the Head of the Strategy and Third Division, Major General Tal Kalman, and the Chief of the Foreign Relations Brigade, Brigadier General Avi Davrin headed the Israeli delegation.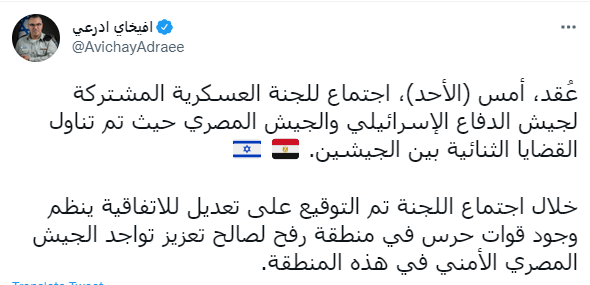 IDF Spokesperson's Tweet
He continued, "During the committee's meeting, an amendment to the agreement was signed regulating the presence of guard forces in the Rafah area in favor of strengthening the presence of the Egyptian security army in this area."
Also, he pointed out, in this context, that "this amendment was approved by the political level