World
The story of Halyna Hutchins who was killed by a wrong bullet fired by actor Baldwin
In a picture, which is the last thing in which cinematographer Halyna Hutchins appeared before a wrong bullet was fired from a pistol, which was in the hands of the American actor Alec Baldwin , and killed her, we see her last Thursday as she turned her back to the camera inside a church, on her head a knitted hat, on top of it headphones, and in front of her is the hero of the movie who They chose the name Rust for him as the title, about two meters away from her.
When everyone went out to where they were going to rehearse a scene from the movie, his hero found 3 pistols that the gunsmith Hannah Gutierrez had put on a cart outside the church. Assistant director Dave Hols approached and took out an old Pietta Long Colt.45 pistol, and reassured Baldwin when he handed him to him that he was safe .
However, the pistol that they began to manufacture in the United States since 1872, and a year later, the American army began using it for 10 years, according to what Al-Arabiya.net learned from his biography, as well as from local media, such as the American newspaper "New York Times", which published the photo, It wasn't safe at all. As soon as the actor pulled his trigger, an unexpected tragedy occurred: the bullet fired from live ammunition, not dead, killed Helena Hutchins in the prime of youth, barely 42 years old. The film's director, Joel Souza, also shot his shoulder, but he was discharged in recovery.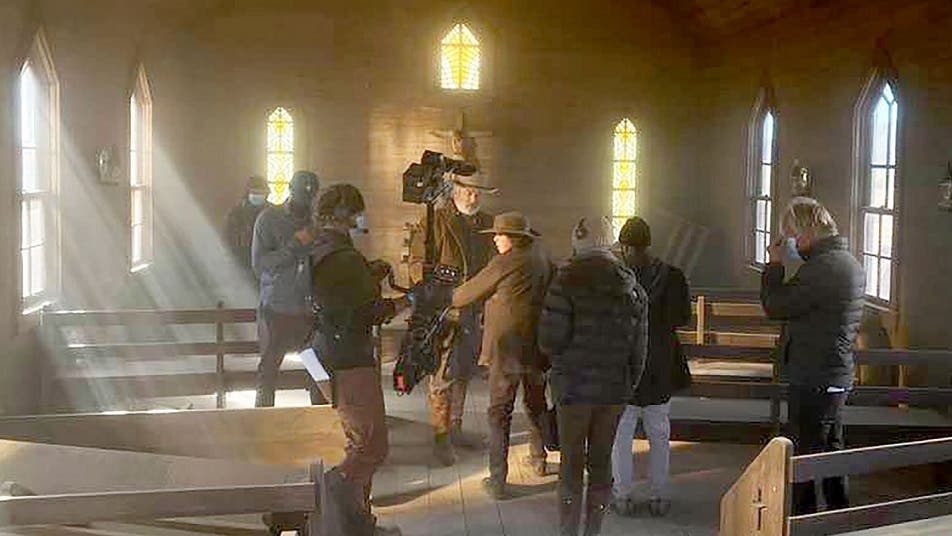 The last picture in its entirety, with the cinematographer turning her back on the shooter, looks like she's in a knitted hat, with headphones on.
And what was said yesterday, Wednesday, by investigators, who examined and analyzed the fatal accident in Santa Fe County, "New Mexico" US, that it resulted from "some laxity" in the application of safety laws, and that the weapons expert gave the actor a pistol with live ammunition, and he accidentally killed the cinematographer, However, prosecutors, including the county attorney general, Carmack-Altwies, have ruled out criminal charges in the case, telling reporters that "all options are on the table at this point" as long as the investigation continues.
The actor may be charged with a criminal offense
As for the state authorities, the agencies reported that they had found nearly 600 evidence so far, including the presence of 3 firearms and 500 rounds of ammunition at the filming location, and that some of their types "constitute a mixture of blanks and fake bullets and what we suspect is live ammunition that requires analysis in the laboratory," according to As the county police chief, Adan Mendosa, said, adding that "a part of a bullet" had been recovered from the injured director's shoulder, and handed over as evidence.
He also told reporters that there were as many as 100 people behind the scenes filming when the shooting took place, and confirmed that two other people had handled the gun before it was handed over to Baldwin, "they are: Hanna Gutierrez and assistant director Dave Holz (… ) and that more bullets were in the gun." Then he was surprised by saying that the prosecutor did not rule out filing criminal charges against the actor