World
Sudan's Foreign Minister: Any coup is rejected and we will resist it
While the Sudanese capital, Khartoum , witnessed a series of arrests of several ministers in the government and the Sovereignty Council, the Minister of Foreign Affairs, Maryam Al-Sadiq Al-Mahdi, confirmed that "any coup is rejected and we will resist it by all civil means."
She said in statements today, Monday, that she is speaking in her capacity as a leader in the Sudanese Umma Party, and she launched an appeal through Arabiya on behalf of the party, pointing out that she is at her home and does not rule out being arrested
Dialogue to find a solution
She also clarified that "the Umma Party has dialogued with all parties to get out of the current crisis," stressing that "there are real issues that require dialogue to reach a solution without abuse."
She also follows, saying: "We do not accept operations of exclusion or ideological terrorism between the parties in Sudan," stressing that "the Umma Party rejects any coup from any side."
"Hamdok's detention is very dangerous"
Maryam Al-Sadiq Al-Mahdi stated that "a radical solution to the political tension in Sudan can be reached through dialogue," pointing out that "America has made objective efforts and indirect mediation for the solution."
She also said: "We warn everyone against spilling a single drop of the people's blood."
In addition, she considered that "the detention of Prime Minister Abdullah Hamdok in an unknown destination is a very dangerous and unacceptable matter," explaining: "I do not think that Hamdok will accept dictates to dismiss his government."
under house arrest
It is noteworthy that earlier on Monday, sources told Al-Arabiya / Al-Hadath that Hamdok was placed under house arrest, after a military force surrounded his house early in the day and moved him to an unknown location.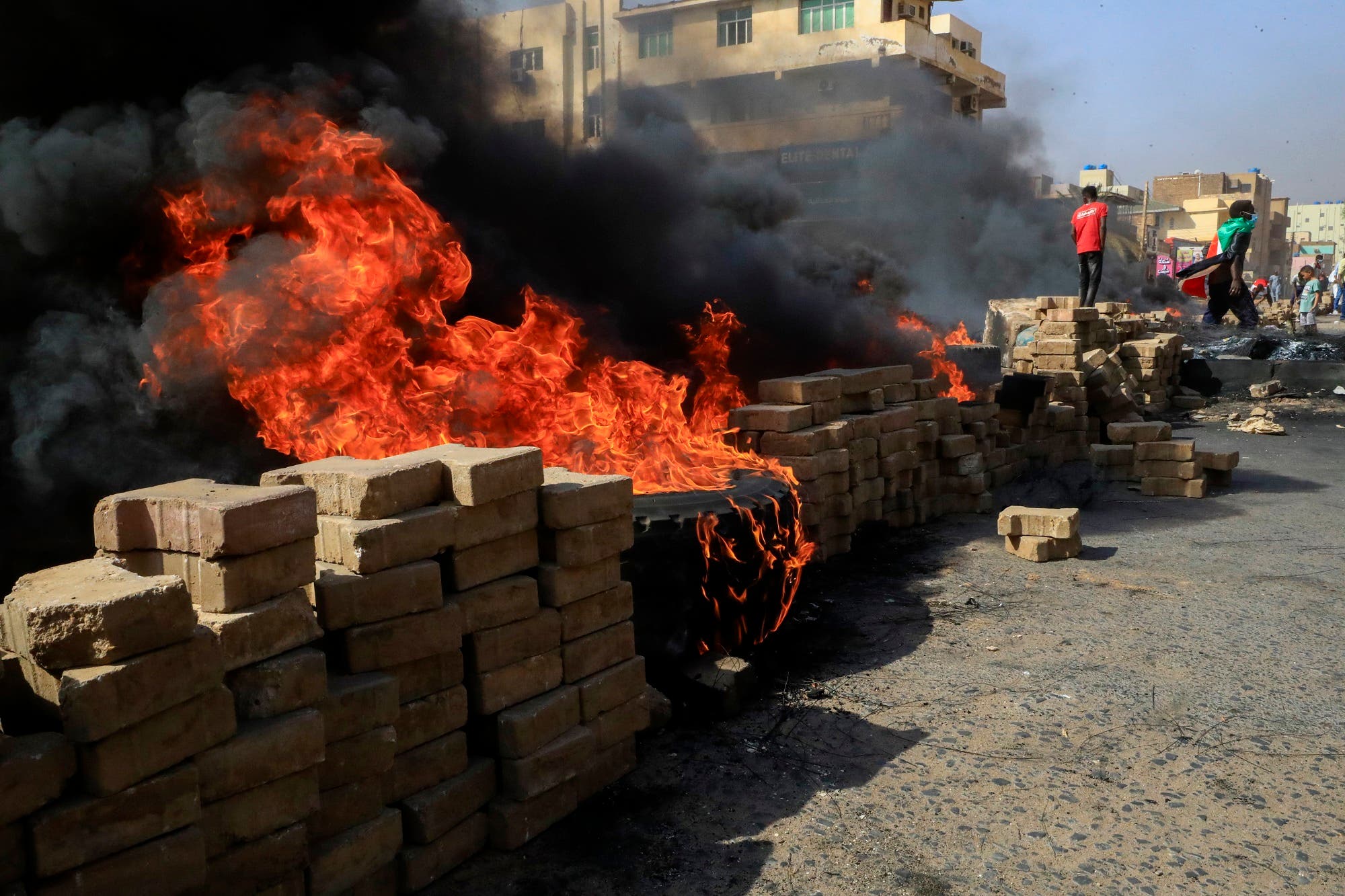 From Khartoum on October 25 (AFP)
In turn, the director of the Prime Minister's office, Adam Hreika, confirmed to Al-Arabiya that he visited Hamdok's house in the morning, and learned that he and his wife were taken to an unknown location.
Hreika also considered that this "coup" took place this morning despite the agreement that was made at night between Hamdok and the President of the Sovereignty Council , Abdel Fattah Al-Burhan.
A message to the Sudanese
For its part, the Ministry of Information announced in a statement on its Facebook account later, that Hamdok was taken to an unknown location, after he refused to comply with the demands of the coup, as it put it.
She pointed out that the Prime Minister called on the Sudanese to take to the streets and adhere to peace, explaining that he sent a message from his house arrest, asking all citizens to occupy the streets to defend their "revolution."
In addition, demonstrators gathered in some streets of Khartoum, blocking roads and burning tires to protest what is happening in the country.
Several arrests
The ministry had previously reported that members of the civilian component of the Transitional Sovereignty Council, and most of the government ministers, were arrested at dawn today, adding that their whereabouts are still unknown.
In turn, sources from the family of Faisal Muhammad Salih, Hamdok's media advisor, told Reuters that a military force stormed Salih's house and arrested him early in the day.
For his part, Minister of Industry Ibrahim Al-Sheikh also announced that military forces had stormed his house.
After the meeting of Hamdok and Al-Burhan
It is noteworthy that those arrests that took place at dawn, in addition to the siege of the Prime Minister's house, came after a meeting that included Hamdok and Al-Burhan to discuss the proposals of the American envoy to the Horn of Africa, Jeffrey Feltman. It also came a few hours after Feltman's meetings with Burhan and Hamdok, and the first deputy of the Sovereignty Council, Muhammad Hamdan Daglo, during which he stressed the need to resolve differences through dialogue and preserve democracy.
Relations between the civilian and military component of the government have witnessed escalating tension since the failed coup attempt last September. The two sides have since exchanged accusations and held responsibilities for the economic, living and political crises in the country, but the severity of the critical statements subsided during the past days, especially after Hamdok put forward a solution initiative and dialogue between the conflicting parties